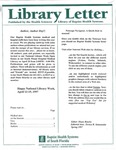 Title
Description
In 1997 the library was focused on bringing the internet to the hospital community. The library offered internet demonstrations, including how to use Netscape Navigator, and how to find medical sites on the internet.
Keywords
netscape navigator, internet demonstrations, medical sites on the internet
Recommended Citation
Baptist Health South Florida, "Library Letter 1997" (1997). Author Author Archive Files. 20.
https://scholarlycommons.baptisthealth.net/author-author-archive-files/20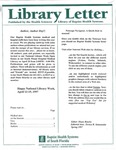 Restricted
Available to BHSF community via local IP address or BHSF login.
COinS